COVID-19 Morning Update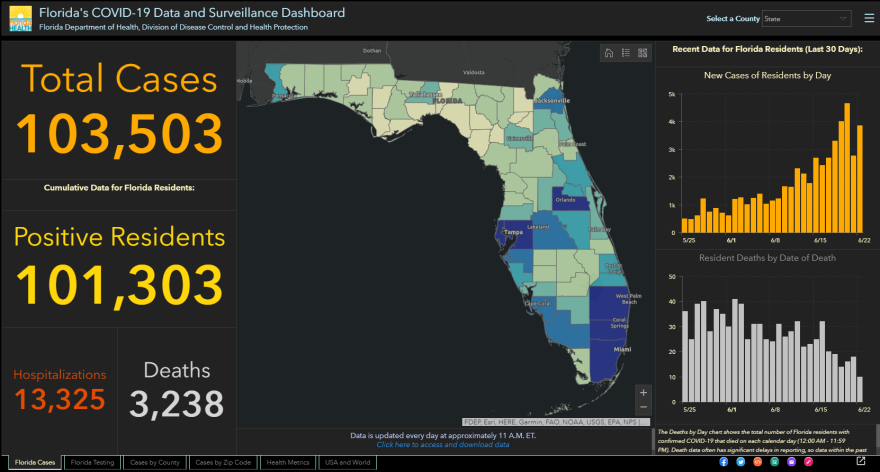 State health officials reported 3,286 new confirmed cases of the coronavirus, Tuesday, bringing the statewide total to 103,503 cases. June 23 marked the fifth time in six days Florida's single-day increase in COVID-19 cases topped 3,000.
The Florida Department of Health also reported 65 new coronavirus-related deaths, Tuesday, increasing the statewide death toll to 3,238 fatalities.
The total number of hospitalizations in Florida due to the virus has climbed to 13,325 patients. Across the state, 23 percent of adult intensive care unit hospital beds were open as of yesterday.
Here in the Southwest Florida region including Charlotte, Collier, Glades, Hendry, Lee, Manatee and Sarasota Counties, state health officials reported 347 new cases of the virus, Tuesday, and five new deaths including two fatalities in Hendry County and one new death each in Collier, Manatee and Sarasota Counties. The total number of coronavirus-related deaths in the Southwest Florida region now stands at 536 fatalities.
Gov. Ron DeSantis acknowledged an "escalation in transmission" while speaking at an Orlando hospital Tuesday, but continued to point out that the current spike in new cases is being largely fueled by younger people.
DeSantis also continues to reject the idea of imposing a statewide mandatory mask policy, saying he's leaving such policy decisions to leaders at the local level.
Cities including St. Petersburg, Tampa and Orlando all are requiring that businesses and patrons wear masks in public.
Pinellas County commissioners approved a mandatory countywide face mask ordinance that goes into effect June 24 at 5:00 p.m. The Pasco County Executive Policy Group also approved a mandatory face covering requirement Tuesday. Under both orders, business owners and employees will be responsible for making sure people who are not wearing a face covering do not enter.
The Pasco County order went into effect immediately, but enforcement will not start until 5:00 p.m. Thursday.
Palm Beach County Commissioners voted, Tuesday, to require face coverings in public beginning today, June 24.
Also, Manatee County commissioners have recommended, but will not require, that people wear face coverings when social distancing isn't possible.
Dean of the College of Public Health at the University of South Florida Dr. Donna Petersen says the uncertainty of the novel coronavirus and the lack of treatments and vaccines leaves us with few options for prevention.
"The only thing we can do is try to prevent mass spread and you do that by keeping your distance and wearing a face covering. It's just that easy," said Dr. Peterson.
She said it's impossible to completely eliminate the illness, but wearing face coverings and keeping six feet apart from others really does help slow the spread.
U.S. Rep. Lois Frankel (D-FL), says there won't be a cure or vaccine for the coronavirus this year. She sits on the House Labor, Health and Education Sub-Committee. Frankel said, Tuesday, she's spent hours in committee meetings with the nation's top health officials.
"I can just discern from what I have heard this virus is going to be with us for many, many months," said Frankel.
"Whether there is a vaccine or a cure—it's not going to—if it's going to happen it's not going to happen this year. That's all there is to it."
Frankel said testing, contact tracing, and self-isolation will be vital in tamping down on the recent spike in coronavirus cases.
Gov. DeSantis says there will be a zero-tolerance policy moving forward when it comes to pubs and restaurants not following 'Phase Two' guidelines. DeSantis said pubs and restaurants found operating at 55 percent capacity might get a warning, but he said places like Knight's Pub in Central Florida, which was packed before it was shut down, will have their licenses suspended.
"If you go in and it's just like mayhem and Dance Party USA and it's packed to the rafters, that's just cut and dry and that's not an innocent mistake," said DeSantis.
Florida Department of Business and Professional Regulation Secretary Halsey Beshears said he's gotten more than 100 complaints about businesses.
Beshears said ABT officers will monitor pubs and bars from 5:00 pm – 1:00 am nightly and passing out warnings and suspensions when necessary.
The Adrienne Arsht Center in Miami is set to host a debate between President Donald Trump and presumed Democratic nominee Joe Biden in October. What's still up in the air is how South Florida will be doing with coronavirus cases at that time, which has some groups nervous about hosting the event.
"I would be far more excited to welcome the spotlight on issues impacting Miami had our governor and our county mayor not put profits over people and allowed COVID-19 to spread pervasively throughout our community," said Miami-Dade County Democratic Party Chairman Steve Simeonidis.
Miami Mayor Francis Suarez told Politico it's possible the event will have to be held without anyone in the audience. The Republican Party of Miami-Dade County did not respond to calls about the announcement.
A student of Cypress Lake High School in Lee County died, June 23, from COVID-19 complications.
The News-Press reports, 17-year-old Carsyn Davis was admitted to the Children's Hospital on Friday, and was transferred to the ICU with COVID-19 two days later on her 17th birthday.
On Monday, Davis was airlifted to another hospital for additional cardiac and respiratory support. She died Tuesday at 1:06 p.m.
Lee County School board member Melissa Giovanelli delivered news of Davis' death to fellow board members last night.
Another 17-year old in Pasco County recently died from the virus. When that death was listed in Health Department coronavirus data, Friday, the teen became the first person in Florida under 18 to have died from the virus.
Florida Gulf Coast University officials reported, Tuesday, that two students have tested positive for COVID-19. The students live off-campus and are isolating separately. The students report last being on the FGCU campus on June 11 for a peaceful demonstration and march.
Both students say they work masks at the demonstration and did not have symptoms of the virus at that time.
Currently, FGCU students taking classes over the summer are doing so remotely and employees are returning to campus to work in phases. The Florida Board of Governors approved FGCU's reopening plan, Tuesday, as well the reopening plans of the state's 11 other public universities.