Sen. Rubio Addresses Freedom of Expression, Cancel Culture and Infrastructure in Address to Greater Naples Chamber of Commerce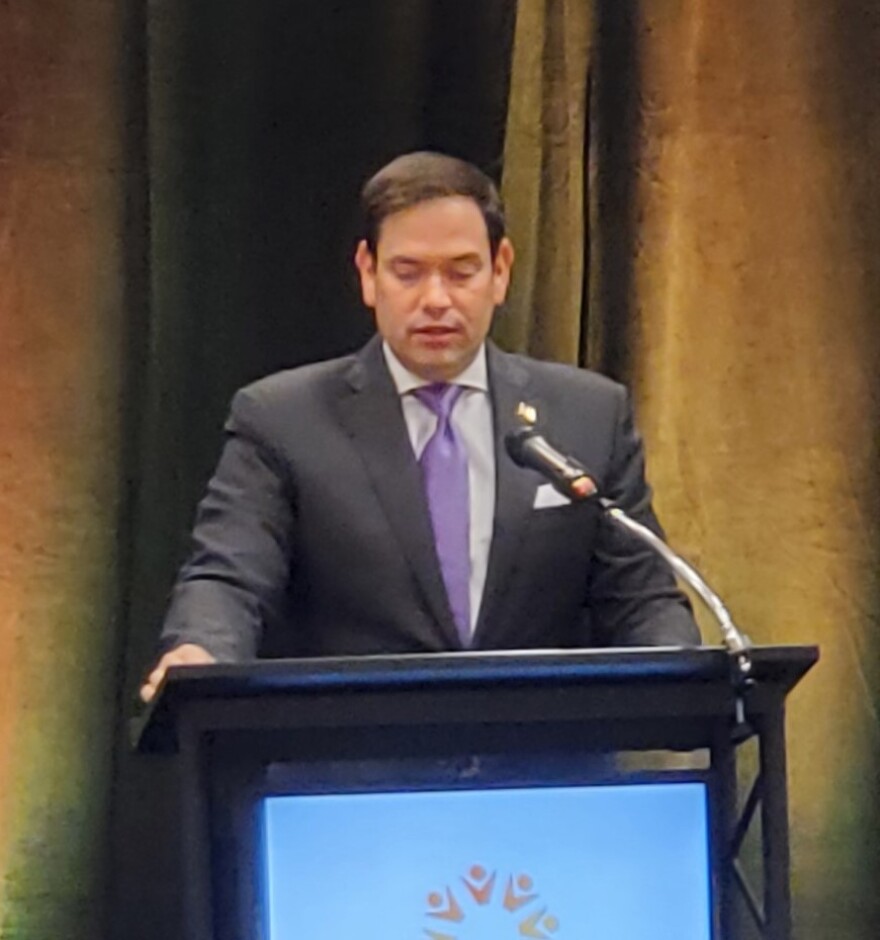 U.S. Senator Marco Rubio (R-FL), addressed members of the Greater Naples Chamber of Commerce, Wednesday morning at the Hilton Naples and touched on a broad range of topics in his 20 minute speech, including his perspective on the state of the country; touching on topics including student loan debt, voter ID laws, freedom of speech and the Biden Administration's proposed $2 trillion infrastructure plan.
Rubio has long been a proponent of federal direct student loan system reform. In his address Wednesday, he tied student loan debt to the concept of opportunity in America.
"I've grown my whole life, like, obsessed with my kids not having student loans because I had student loans which I paid off with a book, "American Dreams" now available on paperback," said Rubio.
"Probably, I don't know if Amazon still sells it. It depends what I say today."
On Tuesday, Amazon CEO Jeff Bezos Tweeted his support for a proposed increase in the corporate tax rate included in the Biden Administration's infrastructure plan. Rubio addressed an audience member's question about his approach to infrastructure. He said infrastructure is broader than just roads and bridges, but that it should not include social service programs. He was noncommittal on whether he'd support Biden's infrastructure plan.
Early on in his speech, Rubio claimed the "democracies of Europe" don't have freedom of speech, calling it, "a uniquely American principle."
The non-political organization World Population Review documents several other countries with freedom of expression scores near or comparable that of the U.S.
Rubio said the first amendment still protects Americans from government intrusion, but voiced concerns regarding the impacts of so-called cancel culture.
"It's gone beyond simply saying things that are inappropriate and offensive. There are people today live in fear of admitting who they voted for, what they think about a certain issue because your business will get targeted," said Rubio.
"So what do you do with a country that has millions of people who pretend to agree with what they're told or allowed to say or do? And the reason you have to pretend is because you can't afford to get cancelled."
Rubio's only mention of the ongoing COVID-19 pandemic, which so far has killed more than 34,000 people in Florida, was to say that it's highlighted the importance of giving power to local governments to make decisions for their individual communities.
Rubio did not address the slate of GOP-sponsored bills currently in the Florida legislature that aim to do the opposite by preempting local governments from making their own rules about topics ranging from clean-energy policies to limits on the cruise ship industry.
State lawmakers, this week, are also grappling with how to incorporate Florida's $10 billion-dollar share of the Biden Administration's American Rescue Plan into budget proposals. Rubio did not comment on the recently passed $1.9 trillion rescue package. He was not asked about it by Greater Naples Chamber of Commerce members and he took no questions from the media.
Rubio was speaking at the Greater Naples Chamber of Commerce's monthly speaker series "Wake Up Naples."
WGCU is your trusted source for news and information in Southwest Florida. We are a nonprofit public service, and your support is more critical than ever. Keep public media strong and donate now. Thank you.