COVID-19 Morning Report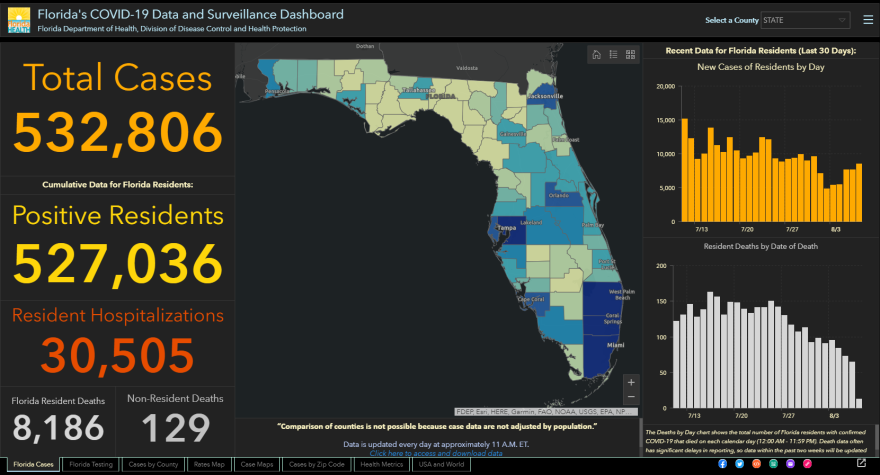 State Health officials reported 6,229 new cases of COVID-19, Sunday increasing the statewide total to 532,806 cases. The Florida Department of Health also reported 77 new coronavirus-related deaths, Aug. 9, for a total of 8,315 fatalities. Sunday's numbers compare to 8,502 confirmed cases and 187 new deaths reported Saturday.
Despite Sunday's relatively low number of new coronavirus-related fatalities reported, the daily average number of deaths over the past seven days stands at 158 deaths.
Of the 3,991,826 tests that have been performed in Florida so far, 13.35% have been positive for the virus.
State health officials reported there were 6,857 patients being treated for COVID-19 in hospitals, Sunday, compared to 6,836 hospital patients reported the day before.
Here in the Southwest Florida region including Charlotte, Collier, Glades, Hendry, Lee, Manatee and Sarasota Counties, the Florida Department of Health has reported a total of 46,783 cases of COVID-19 and 933 coronavirus-related deaths since the beginning of the pandemic.
The Trump administration announced it plans to send coronavirus test kits to nursing home facilities where residents are most at risk. Florida lawmakers hope this could help ease restrictions on visitors in nursing homes.
Nearly 70% of Florida's nursing homes are supposed to receive rapid coronavirus test kits in the coming weeks. State Department of Health Secretary Scott Rivkees said the tests are for symptomatic people who noticed their symptoms within the past five days. He said that these tests are "highly sensitive."
In March, Gov. Ron DeSantis banned families and visitors from seeing loved ones in nursing homes. The policy was enacted to prevent COVID-19 from spreading to vulnerable patient communities.Now his administration is considering ending the ban. Increased testing could help them decide who can visit nursing homes and under what conditions.
As the Florida High School Athletic Association looks into pushing the start of fall sports to the end of November, Gov. Ron DeSantis is urging schools to play on.
DeSantis says just as he believes parents should have options when it comes to sending their kids back to the classroom, he thinks parents should choices when it comes to sending kids back to the athletic field.
"When we went to distance learning the activities and the sports stopped for kids in middle school and high school. Those are moments that we're not going to be able to get back—especially for the seniors. So, as we look to what's coming up in this school year, I think it's critical that we have boys and girls sports available for our students and if a parent chooses to not have their kids play, that is totally fine and that is a parental choice," DeSantis says.
DeSantis says he thinks participation in sports is a valuable experience for students. He says that's something he says he knows firsthand. He played baseball at Yale during his undergrad career.
"I think it made me a better student," DeSantis says. " I think it absolutely made me have to work hard—having to balance playing baseball with school work. By the time I got into law school, I was in Harvard law school, everyone was like 'oh my gosh it's so tough all this stuff.' I never had more time on my hands because I was so used to working out, practicing, playing, obviously I worked jobs."
To illustrate his point, DeSantis invited Heisman trophy winner and former FSU football player and NBA player Charlie Ward to speak during a round table discussion on the importance of sports.
"Just being a student athlete definitely taught me a lot about teamwork, how to relate to each other, discipline," Ward said. "You know the discipline for us to be able to share with our guys and being able to hold them accountable. That's been the toughest thing for us with our guys is being able to hold them accountable for their actions."
Ward now works as a basketball coach at Florida High. He says kids are playing sports with each other anyway and he sees no reason it couldn't be done safely with coaches and mentors involved.
Florida Education Commissioner Richard Corcoran also agrees students and parents should be given the option to participate in sports this fall.
"There's a way to do it just like there is schools where you can maintain a safe level of competition during this pandemic," Corcoran says.
The Florida High School Athletic Association Board of Directors is set to meet August 14. It will hear from committees, including the Sports Medicine Advisory Committee, before making a decision on the new start date for fall sports.
Early voting is now underway throughout Florida. The AP reports, hundreds of early voting sites opened, Aug. 8, and more than 40,000 people cast ballots in person, ahead of the August 18 primary election.
Some counties had already opened early voting sites, but by law, Saturday marked the day that all of Florida's 67 counties had to open early voting sites.
There are no statewide races on the ballot this year, but Florida voters are selecting nominees for Congress and the state legislature as well as local races.
In person turnout appears light, but voting by mail has become more popular amid the ongoing coronavirus pandemic. Already, vote-by-mail ballots cast in Florida for this year's primary exceed the total number of vote-by-mail ballots cast in the 2016 primary election.
In Florida prisons, more than 12,000 inmates and 2,000 staff members have tested positive for the coronavirus. At least 59 inmates and two officers have died.
Jimmy Baiardi is State Corrections Chapter president with Florida Police Benevolent Association. He has heard from hundreds of corrections officers.
"And the best way to express their current situation is a living hell," he said.
He said they're short-staffed, working for longer hours and on days off, and living with the fear of catching the virus or bringing it home.
"We've been fighting for hazard pay," Baiardi said. "The officers have been asking. And these officers, they probably have the worst job of all right now, probably in the — I think maybe even in the world."
The Florida Department of Corrections has announced special measures at prisons with outbreaks. They include mask wearing, isolation, cleaning and broad-based testing.
But Baiardi says the officers — just like the inmates' families — don't think the department has a handle on it.
Widespread door-knocking for the 2020 U.S. Census gets underway this week and that's creating another challenge for the Bureau. The AP reports, previously-committed census takers are dropping out due to fears amid the ongoing coronavirus pandemic.
This loss of door-knockers comes as the Census Bureau faces newly tightened deadlines to reach the hardest to count communities, including minorities and immigrants.
A test run of door-knockers started last month. This week, the full force of some 500,000 census-takers will be in the field for the first time, attempting to reach households that have not yet responded to the Census questionnaire.
Tourism in Florida has taken a big hit due to the coronavirus pandemic. The losses are especially bad in the cruise industry.
The Centers for Disease Control and Prevention issued a no-sail order for cruise ships in March. Major cruise lines like Carnival and Norwegian have cancelled sailings through the end of October.
"We have the top three cruise ports in the world," said Doug Wheeler, CEO of the Florida Ports Council. (Miami, Port Canaveral, and Port Everglades are the top three. Port Tampa Bay ranks lower, serving about one million passengers a year). "So, for them to effectively overnight lose a substantial portion of their revenues, that makes it tough for a lot of decisions that have to be made relative to capital projects and staffing and planning and so forth."
The Ports Council says the loss of cruises, along with a slowdown in cargo traffic, has led to a $23 billion loss for Florida's economy.
The state's ports are asking for financial help from Congress, but it isn't clear if that money will be included in the next round of pandemic relief.
Hospitals in Florida are treating COVID-19 patients with antibody-rich plasma from those who've recovered. One Broward County lawmaker who's recovered from the coronavirus and who organized a plasma drive, planned to donate plasma himself, but wasn't allowed to.
State Rep. Shevrin Jones, D-West Park, is the first and only out gay black member of the state legislature.
He's also a survivor of COVID-19. Jones, his brother and his parents including his father, West Park Mayor Eric Jones, all recovered from the coronavirus and planned to donate their plasma.
But the FDAs long-standing and controversial policy banning most gay men from giving blood stopped Shevrin Jones from making the donation.
The rule dates back to 1983 and is rooted in fears over the AIDS crisis. It's been revised over the years and at this point, men who have had sex with men in the last three months are banned.
In a text, Jones called his deferral an "obvious discriminatory act" and said of the experience, "Painful is an understatement."
His family members and 20 others donated plasma during the event in Hollywood.
WGCU is your trusted source for news and information in Southwest Florida. As a nonprofit public service, your support is more critical than ever. Keep public media strong and donate now. Thank you.