Fort Myers March For Our Lives Attracts 2,000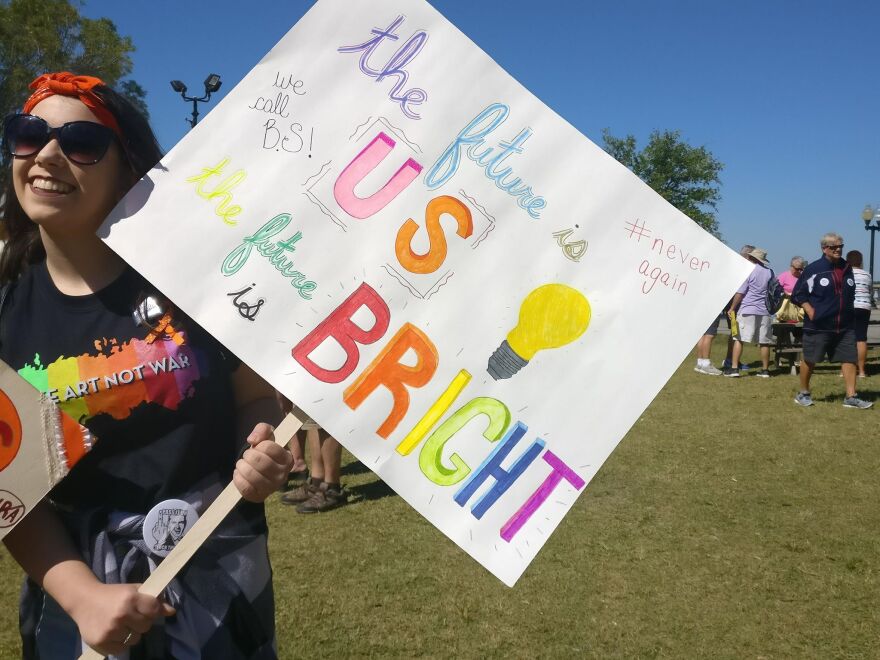 One of the many marches held over the weekend attracted 2,000 participants in Fort Myers, including two best friends.
The Thursday night before the march, high school seniors Aly Childs and her best friend, Christina Rossomando, made signs for the March For Our Lives rally in Fort Myers.
Aly's said, "The future is us. The future is bright."
Christina's said, "Arms are for hugging."
The morning of the march, they got ready to head downtown amid speculation about how many people would be there. The girls went back and forth looking at the estimated numbers on Facebook and across social media.
"Like, 2,500 people," Christina eventually said.
There was also giddy anticipation about being part of something so big.
"I'm a little nervous to be honest," Aly said. "I've never really been a part of something like this before, but I'm pretty excited."
They headed downtown where they met up with Carling Witt, who organized the march, and immediately, Aly and Christina were surprised at not only the number of people but also the different groups represented there.
"There's a huge range of people," Aly said.
"Yeah, all ages," Christina added.
The two began helping by selling ribbons. The proceeds of the sales would go toward the March For Our Lives foundation. One woman they approached with their ribbons asked the girls if they were registered to vote. The answer was yes.
"Eleven days until I can vote," 17-year-old Aly told her.
"So, you guys can vote in November," the woman replied.
After they helped with setup, Aly and Christina joined the chants that broke out while speakers took the stage to begin the rally.
And, then, as the march began, Aly and Christina found out they'd be leading.
"So, now, we're leading the march," Aly said. "I'm very excited. This is really cool."
Out in front of about 2,000 marchers, they chanted more slogans — things like, "We are the mighty — the mighty, mighty children" and "No more NRA."
As they led the group to the Lee County Courthouse where students spoke, more chants filled the air.
It was there where the Fort Myers March For Our Lives organizer Carling Witt took the stage to recall how she felt when she was downtown during the Zombiecon shooting — just a few blocks and two and a half years from this rally.
"And, I'm sitting there; I was there touching a wound on my head where a police officer threw me into a wall to try to get me out of the way of the bullets," Witt said. "And, I kept on touching it, and I kept on saying, 'That could have been a bullet. I could've been dead right now.'"
One counter protester held a flag that said, "Don't tread on me," and he argued with some of the marchers.
"There's nothing you're going to go into without some sort of resistance," Christina said. "Like, it shows that with every sort of movement that you may partake in, there's always going to be an opposing side that doesn't want you to succeed, and that's what this guy represents, even if he's only one person. So, it's still so nice to see. If anything, it should motivate people to keep going and pushing for change."
Aly said her mom supported her being there. But, it's a complicated issue, and there are not easy answers.
"I grew up in a very Republican household, so I grew up around guns and around all this," Aly said. "So, it is such a complicated debate on what should happen next."
Her best friend Christina agreed.
"We all have the same goal that we want. We know there's something wrong right now, and we need some sort of change," Christina said. "We might have different ideas on what that change might be, but we all know that what we have in place right now is not working for us."
Still, Christina said, it's the beginning of a conversation.