Future of Fort Myers Beach being guided (somewhat) by FEMA Community Assistance: Moore About Business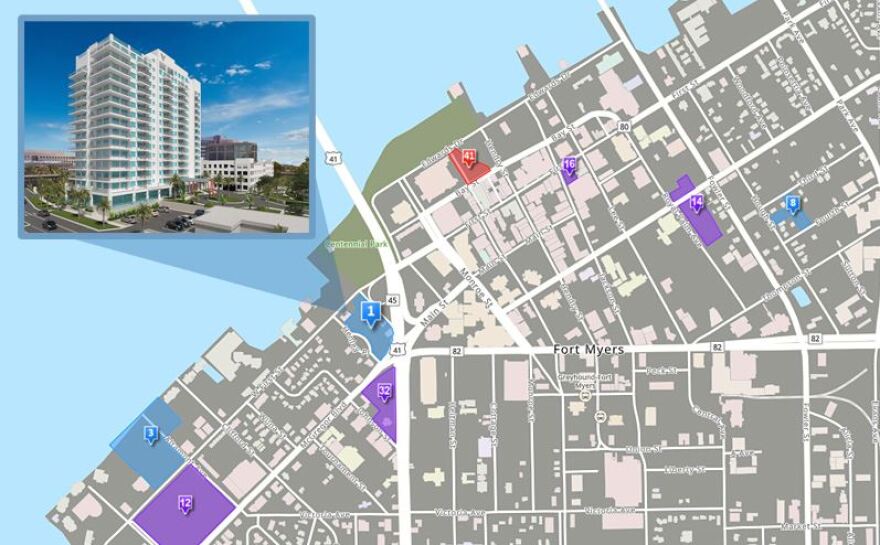 Town of Fort Myers Beach officials recently shared a report card with the community about what's been done and what is in the works for the long-term recovery after Hurricane Ian.
Mayor Dan Allers assured meeting attendees that progress is being made: "I know sometimes it's difficult in the community: you're feeling that nothing's happening, but there's a lot of things happening behind closed doors that all of a sudden just gets done."
As symbols of their progress, officials like Jason Freeman with the town's Public Works Department celebrated the reopening of Bayside Park and the recovery of the Times Square clock.
"We've been continuing on the maintenance of cleaning up that area, having a well-meaning event set, such as that farmers market on Fridays now, and just really making sure that that's available to the community as well," said Freeman. "I think it truly means a lot to people on whether you're local or out of here as well. That clock, I think, is in tons of family pictures and vacations and everything . So, symbols like that are what we're really prioritizing to get (back)."
Other improvements discussed were continued storm water system clean-out, cleanup around water ways, and a new berm, which according to Chad Chustz, Environmental Projects Manager, will help in future storms.
"So one of the important things that we've been working on is building back our beach to help mitigate these storms that we're seeing, sea level rise and bigger storms for them to keep getting hits," said Chustz, and without the assistance of FEMA, "the town built this berm with our partners."
The timing for completion of the berm couldn't have been better. Chustz said that at least 80% of the berm was constructed before Hurricane Idalia came through.
"That made a big difference," he said.
A primary focus for the meeting was the future development of Fort Myers Beach. The town enlisted the help of the FEMA Community Assistance Team which claims their mission is to help local governments carry out community-based recovering planning and management.
Madeleine Gorman, with FEMA, asked the community to consider this.
"This is the time when we start asking ourselves the big question: what is it that we want our community to look like in 5, 10, 20 years? How do we bring the best things from the past as well as build toward a stronger and more resilient community in the future?"
The team outlined several themes for the community to discuss and prioritize. The first theme was economic recovery involving the commercial hubs of Times Square and Santini Plaza and any development in between. A second theme involved zoning, planning, land use, and conservation. A third theme focused on help and social services specifically centered on senior services, urgent care and childcare facilities.
And then there is the housing issue, which Daniel Tomczak, with FEMA Community Assistance addressed.
"Housing is always going to be a big topic for any community recovering from a disaster. Being able to attract developers to put in either multi-family units or even single -family," is a challenge, he said.
Tomczak continued, "One thing that we hear is that the people that live here like the small neighborhood feel to some of the streets that they live on and they would like to be able to keep that neighborhood feel to the community. So looking at ways to be able to maintain that."
He then acknowledged the housing challenge facing the workforce.
"A lot of people that work on the island work in the service industries, but do they live here or are they driving from 20 miles away? And so being able to provide some opportunities for that demographic," said Tomczak.
Tomczak said that it was important for the Town to find the federal, state or community partners to provide the funding to make the various changes happen.
Mayor Allers addressed the major concern of too much change.
"We're not proposing getting away from the charm, getting away from the ambiance, whatever you want to call it, of the old Fort Myers Beach. That's always going to be there, that fabric is sewn deep within this community," he said. "We're just here to enhance it. So everything that we do from today on is to not only put things back but put things back better. Better, bigger, more resilient."
Frankie Kropacek, director of Operations & Compliance with Fort Myers Beach, agreed.
"We wanna make it right. We wanna find that solution," he said. "Because if you're happy and building back, that makes us happy. I don't have a town to run without buildings, without people, without a community."
Meeting attendees were given the opportunity to vote on the proposed themes which will become part of the recovery plan developed by FEMA Community Assistance. So, it sounds like progress toward a new future for Fort Myers Beach, blending the old with the new, is underway—only time will truly tell.
Karen Moore is founder and publisher of Southwest Florida Business Today and special to WGCU Public Media.